In Memory
Toni Bartlett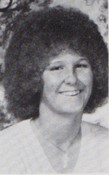 Toni Lea Bartlett
(July 27, 1963 - February 1, 2011)
Toni Lea Bartlett, 47, passed away at her home in Lake Jackson on February 1, 2011.
Toni was born on July 27, 1963, and grew up in Lake Jackson. She spent most of her adult years in the Fort Worth area, returning to Lake Jackson in May, 2006. Toni loved her church, especially Larry and Christina Virnau and the First Baptist Church choir. She also had a special place in her heart for the elderly, and she spent many hours every week visiting area nursing homes. Toni loved her job, and her co-workers were very special to her.
Toni was preceded in death by her grandparents, W.E. (Ted) and Louise Edgar of Lake Jackson, and Claude Sr. and Lora Burton Bartlett of Bellville.
She is survived by her mother and stepfather, Patsy and James Brown of Whitney; her father, Claude Bartlett, Jr. of Clute; her sister, Tammy Hughes and husband Byron of Angleton; niece and nephew, Bailey and Collin Hughes of Angleton; uncle, Tommy Edgar and wife, Amee of Whitney; cousin, Jake Edgar and wife, Christina of Austin; and cousin, Clint Edgar of Houston.
A memorial service will be held at 2 p.m. today at First Baptist Church in Lake Jackson. In lieu of flowers, please make donations to the First Baptist Church Choir Ministry, or the W.E. Edgar Mural Fund at First Baptist Church, 401 Yaupon, Lake Jackson, TX 77566.
The Facts, February 7, 2011