In Memory
Dena Brown (Tobler)
DENA LEANNE (BROWN) TOBLER
(July 15, 1963 - June 18, 2021)
Dena Leanne Brown Tobler of Magnolia, Texas, was born July 15, 1963, in Dallas, Texas, to Edwin Glenn Brown, Jr. and Marian Ann Ainsworth Brown. She went to be with her Lord and Savior, Jesus Christ, on June 18, 2021 following a horse-riding accident.
Dena attended Jane Long Elementary in Freeport, Lake Jackson Intermediate, and Brazoswood High School, Class of 1981. She was co-editor of the paper/yearbook, participated in choir, and went to Ontario, Canada with the Baptist All-State Choir. She was awarded a four-year Presidential Endowed Scholarship to Texas A&M University in College Station.
Dena loved horses from the time she could walk. She read every horse book in the school library and was drawing horses continually. At A&M she rented a 22 year old horse and started taking English riding lessons. She was the editor of the Aggieland Yearbook one year. She also studied one summer in Italy with an A&M group. Dena graduated in December 1984 with a degree in Journalism and Math.
Dena was currently a Senior Technical Project Manager at Mitratech.
Besides horses, Dena loved reading and knitting. She had just finished knitting a panda bear for her niece's baby due on Dena's birthday.
She was preceded in death by her father, Ed Brown; paternal grandparents, Eddie and Elsie Brown; maternal grandparents, Felix and Mary Neal Ainsworth; and paternal aunt, Charlotte Brown Baker.
She leaves to cherish her memories her husband and the love of her life, Michael Tobler; her mother, Ann Brown, of Lake Jackson; brother, Danny (Sara) Brown, of Surfside; sister, Denise (Travis)West, of Harrison, Arkansas; four nephews; two nieces; six great nephews; and three great nieces; and special cousins in Texas, Missouri, Wisconsin, and Norway; her horses, Teddy and Fiorenza; her three cats, as well as all her special friends from the barn at Irish Day Farm, in Houston.
Until we meet again...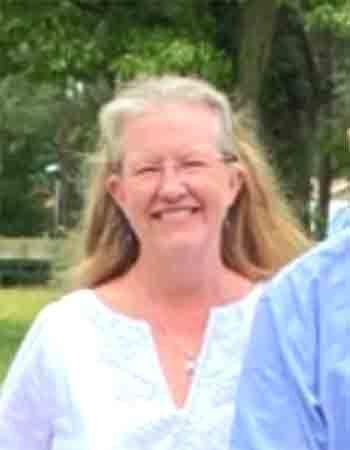 Source: The Facts June 22, 2021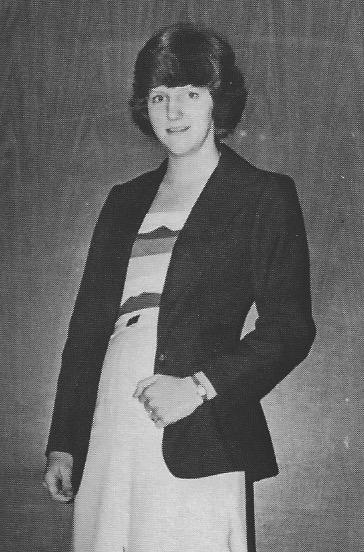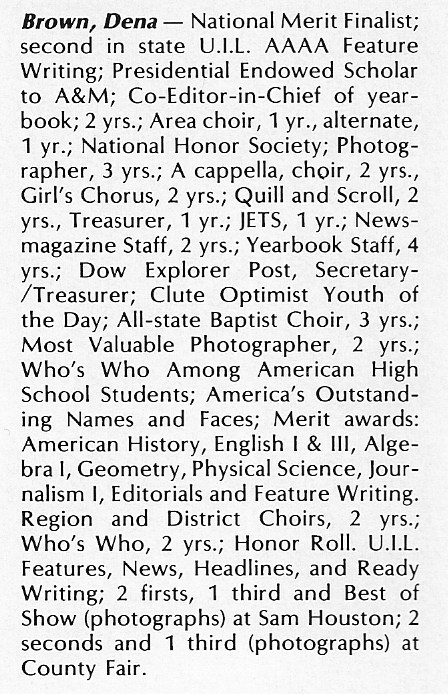 Source: Treasure Chest Yearbook 1981