In Memory
Joni Hybner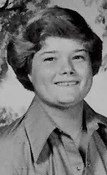 Joni Jean Hybner
(1962 - August 25, 2002)
Joni Jean Hybner, 40 of Oyster Creek died Sunday, August 25, 2002 at her home. She was a lifetime area resident. She was a warehouse manager for Royalty Welding in Freeport, Texas.
She is survived by her parents D.J. and Alice Hybner of Lake Jackson, two brothers Harold Ray Hybner of Madison, Wisconsin, Jack I. Hybner of Clute, TX and one sister Debby Ramirez and husband Marshall of League City, Texas, nieces and nephews Chrissi Hybner, Stacey Hybner, D.J. Ramirez, Michael Ramirez, special companion, Don Hubbard and her cherished dog, Tiny.
Funeral Mass was held at St. Jerome's Catholic Church in Clute, Texas with Father Jim Lynes officiating.
The Facts.